A northern California levee breached overnight as the state was hit by the first in a series of atmospheric rivers. 
In Monterey County, the Pajaro River levee breached amid the Pineapple Express storm at approximately midnight on Friday, located upstream from the community of Pajaro.
"As Chair of the Monterey County Board of Supervisors, my heart hurts tonight for the residents of Pajaro. We were hoping to avoid and prevent this situation, but the worst case scenario has arrived with the Pajaro River overtopping and levee breaching at about midnight," Luis Alejo tweeted. 
In a release, the county said that the Monterey County Water Resources Agency and the California Department of Water Resources were conducting onsite flood-fighting efforts at the levee due to the rising waters
DEATH TOLL IN SOUTHERN CALIFORNIA MOUNTAINS RISES AFTER MAJOR SNOW AS COMMUNITIES DIG OUT
Earlier on Friday, authorities went door-to-door in Pajaro, conducting notification and evacuation efforts, assisting community members who had not evacuated earlier. National Guard high-water rescue vehicles and swift-water rescue team members were also on the scene. 
Those in the evacuation zone that need help should call 911 immediately. 
More than 9,000 California residents were also under evacuation orders, including in Kern County, and hundreds of residents in Soquel were reportedly stranded in their Santa Cruz County homes after the only road in and out was washed out by floodwaters. 
Some water infrastructure there was reportedly also washed out, and evacuations were also ordered in nearby Watsonville, where creek water spilled over roadways and threatened homes. In Tulare County, evacuation orders were also ordered following a levee break in Cutler and due to a creek overflow in Exeter. 
PEET'S COFFEE WAREHOUSE PARTIALLY COLLAPSES IN OAKLAND, KILLS 'BELOVED' EMPLOYEE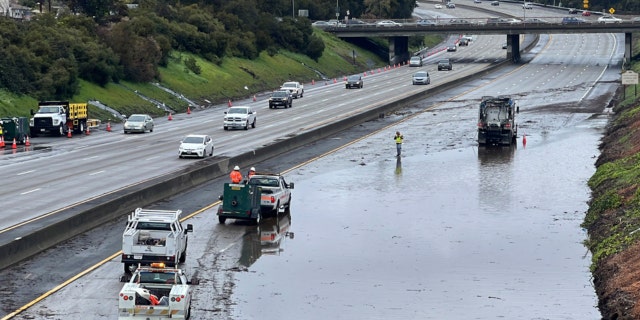 In the Bay Area, flooding blocked Interstate 580 in Oakland, where ducks were caught swimming. 
Martin Gonzalez, 57, was killed at the Peet's Coffee distribution center following a roof collapse. An investigation is underway to determine the cause.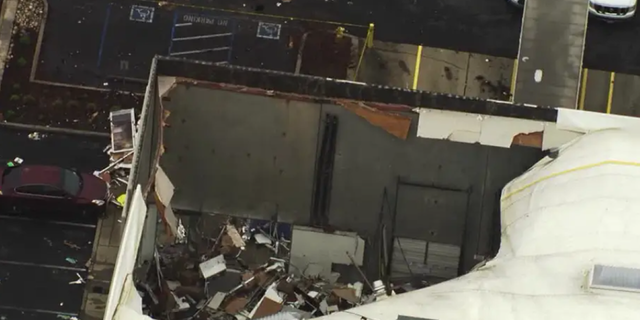 Multiple planes were forced to divert from San Jose International Airport late Thursday night and early Friday morning, representatives told SFGate. 
More than 31,000 customers were without power in the Golden State early Saturday morning, according to outage tracker PowerOutage.US.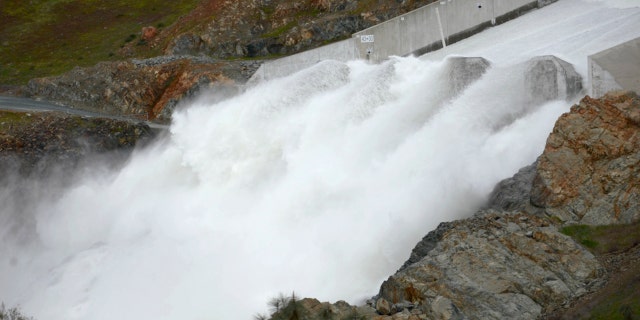 On Friday, President Biden approved a presidential disaster declaration for some on Friday. The storm marked the state's 10th atmospheric river of the winter. 
Lake Oroville — home to the nation's tallest dam — has so much water now that officials on Friday opened the dam's spillways for the first time since April 2019. 
On Friday, state transportation officials said they had removed so much snow from roads last month that it would be enough to fill the Rose Bowl 100 times, and Lake Tahoe's Emerald Bay has frozen over for the first time since the early 1990s, according to SFGate. 
Forecasters have warned that mountain travel could be difficult to impossible during the latest storm, with as much as eight feet of snow expected at high elevations. 
The Associated Press contributed to this report.