The families of two U.S. Coast Guard members killed during World War I received posthumous Purple Heart medals on behalf of their descendants in Florida Thursday. 
Coast Guard Capt. Michael Kahle, commander of Sector St. Petersburg, presented the medals to the families of Angus Nelson MacLean and James Frost. Both men lost their lives during the sinking of the Coast Guard Cutter Tampa on Sept. 26, 1918. 
On that day, the cutter was on convoy duty in the European theater when the German submarine UB-91 fired torpedoes at the vessel off the coast of Wales. The cutter sank, claiming the lives of 135 people, including 111 Coast Guardsmen, 16 British Navy soldiers, and four U.S. Navy sailors. 
CHINA, RUSSIA, IRAN TEAM UP FOR MILITARY EXERCISES IN MIDDLE EAST
The U.S. Coast Guard said it was the single largest loss of life for the Coast Guard during World War I. Launched in 1912, the Tampa was one of six Coast Guard Cutters assigned to the Navy, having escorted more than 350 merchant steamers between allied ports between 1917 and 1918.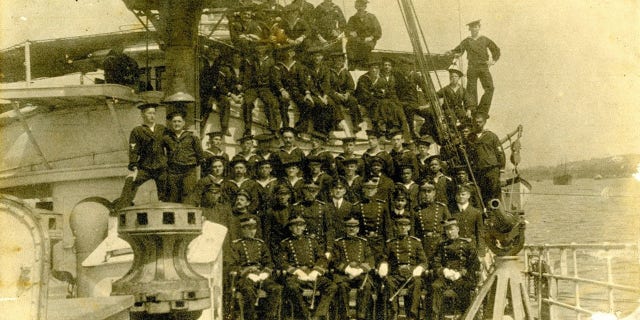 "I feel like a lot of our history is lost throughout the years, and it is understandable with wartime, it is difficult to speak about, but I think it's important, especially for those we do lose, to keep their memory alive," Melody Hoelle, a distant relative of MacLean told WFLA. 
Created by General George Washington in 1782, the Purple Heart is the nation's oldest military award. The Purple Heart is awarded in the name of the U.S. President to those wounded or, posthumously, to those killed while serving in the U.S. Military.