United States officials believe Iran is sending Russia materials to build a drone manufacturing plant east of Moscow to produce more Iranian drones to use in Ukraine.
The intelligence was made public by the National Security Council's Coordinator for Strategic Communications John Kirby on Friday.
"As of May, Russia received hundreds of one-way attack [unmanned aerial vehicles], as well as UAV production-related equipment, from Iran," Kirby said.
IRAN UNVEILS THEIR FIRST HYPERSONIC BALLISTIC MISSILE WITH HELP FROM CHINA
"We are releasing a graphic that shows how Iranian drones are being transferred to Russia: the drones are built in Iran, shipped across the Caspian Sea, from Amirabad, Iran to Makhachkala, Russia, and then used operationally by Russian forces against Ukraine," Kirby added.
Fox News Digital obtained a copy of the graphic released by the National Security Council, which shows color-coded transportation routes allegedly used to move the necessary materials.
EX-RUSSIAN SECURITY OFFICER WHO TURNED ON KREMLIN SENT BACK HOME
Kirby went on to threaten holding Iran and Russia "accountable" for its disregard of United Nations regulations.
"Russia and Iran's actions are violations of their obligations under UN Security Council Resolution 2231 by participating in these transfers of drones from Iran to Russia without UN Security Council approval," Kirby said of the situation. "We will continue to work with allies and partners and with the UN on ways to hold them accountable."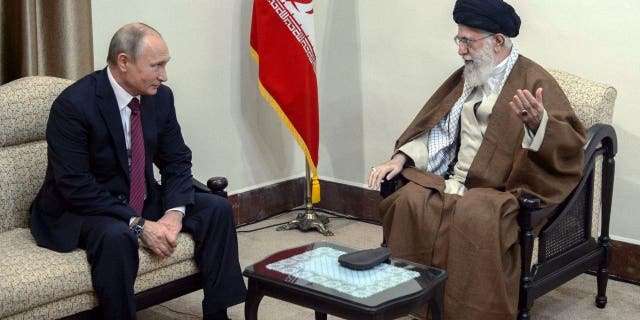 In the statement, it was announced that the U.S. government will be releasing an advisory explaining the "risks posed by "Iran's UAV program" and the illegal methods used by the Iranian government to obtain necessary components. 
The National Security Council is hoping the guidance will help businesses avoid contributing to the Iranian government's program.