Manhattan District Attorney Alvin Bragg announced Wednesday that a New York City Police Department officer has been indicted on a misdemeanor assault charge after allegedly being caught on video punching a homeless man who prosecutors say had been "acting erratically" while placing him under arrest.
NYPD Officer Juan Perez, 42, is accused of punching Borim Husenaj in the face six times during an encounter in Greenwich Village in November 2021. Bragg said the victim sustained a broken nose, had bruising around the eyes, and he was knocked unconscious. 
Perez, who works in the 6th Precinct, is charged with one count of assault in the third degree, a Class A misdemeanor. 
JORDAN NEELY PROTESTERS ARRESTED AFTER CLASH WITH COPS AT NYC VETERANS RALLY IN SUPPORT OF DANIEL PENNY 
"As we allege, the defendant's assault caused the victim to suffer substantial pain," Bragg said in a statement. "Police officers are often put in challenging situations, but they must use their training appropriately and treat the residents of New York City with respect." 
On Nov. 10, 2021, Perez and his partner responded to a radio transmission about an individual acting erratically on the corner of Bleecker and Sullivan streets, according to court documents and statements made on the record. As they were driving to respond to the original incident, they encountered Husenaj on nearby MacDougal Street, and he had "been acting erratically and was holding a bottle of alcohol," prosecutors said. Perez told the victim to sit on a chair on the sidewalk and took the bottle from his hand.
Husenaj continued talking to Perez and repeatedly sought to stand up, according to Bragg's office. Perez eventually called for an ambulance because he believed that the victim was intoxicated. Eventually, after a continued verbal back and forth, Perez allegedly pushed Husenaj against the wall and sought to handcuff him. 
Both Perez and Husenaj eventually fell to the ground and began to struggle with each other. Perez's partner returned from the vehicle and helped subdue the victim.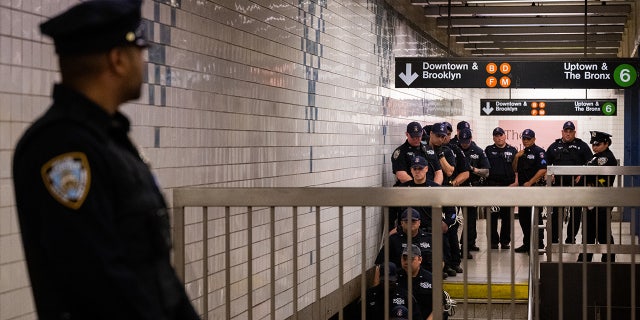 VETERANS, NY REPUBLICANS SUPPORT DANIEL PENNY, DEMAND MANHATTAN DA DROP 'SENSELESS' CASE IN JORDAN NEELY DEATH 
"Perez then proceeded to rapidly punch the victim six times in the face, who was lying on the ground defenseless," according to Bragg's office. "He was brought to the hospital, where he was diagnosed with a broken nose and significant swelling." 
Bystander video of the encounter then circulated online. Court documents, cited by N.Y. Daily News, reportedly said body camera footage of the incident shows that Husenaj was mentally unstable and was rambling about God and his belief that he was being targeted by terrorists. While late testing confirmed Husenaj was intoxicated at the time, "all objective evidence makes clear that he was also in the throes of a serious psychiatric crisis," court documents say.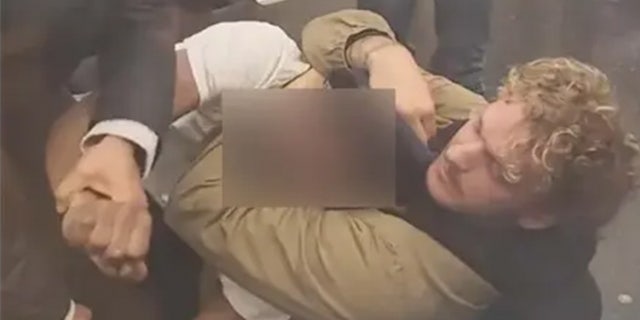 Perez has been suspended without pay, the New York Post reported. Public records show Perez, who joined the NYPD in 2006, was transferred to the Fleet Services Division on May 18. 
City records show Perez, an officer since 2006, has had nine complaints against him, including allegations involving physical force, but none were substantiated. Records also show he was disciplined for a 2014 off-duty threatening incident.
The announcement comes as New York City is still reeling from the subway choke hold death of Jordan Neely and subsequent second degree manslaughter charges brought against Marine veteran Daniel Penny. Neely was homeless and had more than 40 prior arrests, and prosecutors said he had been threatening passengers aboard the subway train on May 1. 
The Associated Press contributed to this report.