A shooting at a Guanajuato resort in Mexico Saturday left seven dead, including a 7-year-old child, authorities said. 
Mexican officials said a band of gunmen invaded the La Palma resort in the Cortazar municipality and shot the vacationers at the swimming pool. Authorities said three women and three men died, including a child, as well as an eighth person who was seriously wounded. The identities of the victims have not yet been released. 
Videos on social media show police on the scene as tourists look on in shock, many still in their swimsuits and towels. Others are seen crying and hugging their children. 
"Heavily armed sicarios arrived and this is what happened," said one man filming the aftermath, using a word for hired assassins.
3 AMERICANS GO MISSING ON SAILING VOYAGE FROM MEXICO TO SAN DIEGO
Authorities said the gunmen then destroyed the spa shop and took the security cameras before fleeing the scene. 
Mexican soldiers and police aided by a helicopter were searching for the attackers. A statement released by officials in the Cortazar municipality in Guanajuato state did not speculate on a possible motive. 
No arrests have been made. 
CALIFORNIA WOMAN KIDNAPPED IN MEXICO SEEN IN VIDEO FOOTAGE 'MOMENTS BEFORE' DISAPPEARANCE: FBI
Guanajuato has been increasingly plagued by drug cartel violence for years, despite also being an agricultural and industrial hub in the country. The Jalisco New Generation drug cartel has been fighting with local criminal groups, including the Santa Rosa de Lima cartel, which is apparently backed by the Sinaloa cartel.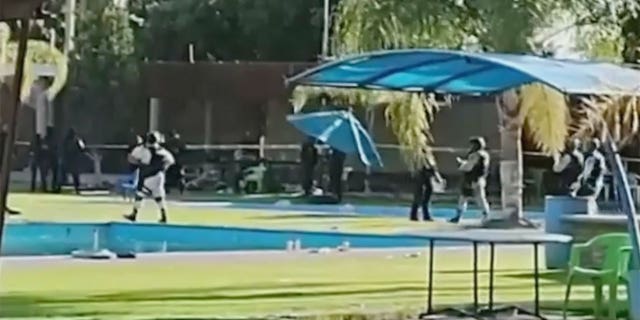 The deadly Guanajuato resort shooting comes the same month as the killings of four men in the resort city of Cancun, right at the start of Easter Week vacation festivities. Authorities said on April 4 the killings were probably related to drug gang rivalries, specifically identifying drug gang leader Hector Flores Aceves, known by his nickname "Pantera," or the Panther. 
AMERICAN MAN FOUND DEAD ON MEXICO'S BAJA CALIFORNIA PENINSULA IN CLANDESTINE BURIAL PIT
The U.S. State Department issued a travel alert for spring breakers just one month prior in March as a result of increasing gang violence. The alert warned travelers to "exercise increased caution" especially after dark at Caribbean beach resorts like Cancun, Playa del Carmen and Tulum.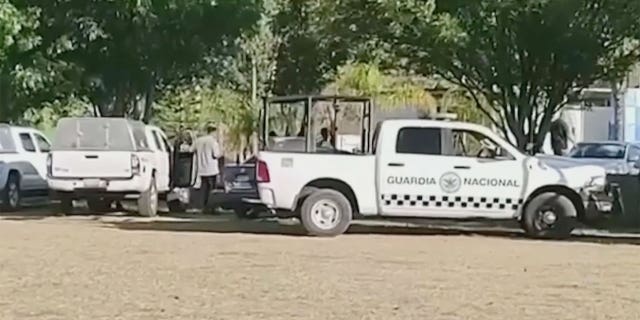 The alert also cautioned travelers about U.S. citizens falling ill or dying after using synthetic drugs or adulterated prescription pills. 
That warning followed reports that some pharmacies in Mexico freely offer sedatives and other drugs that can only be sold with prescriptions in the United States.
The Associated Press and Reuters contributed to this report.