The June 1 deadline for a new Bureau of Alcohol, Tobacco, Firearms and Explosives (ATF) rule banning pistol braces is looming, and gun rights groups are pressuring House Republican leadership to schedule a vote to block it, giving Democrats that represent pro-gun states a tough choice to make.
The new rule would make it a felony to own an unregistered, commonly used plastic stabilizing brace designed for use with pistols. Pistol braces were originally invented in 2012 to aid disabled veterans in shooting independently.
President Biden has called the accessory "especially dangerous" after they were used in several mass shootings
The new rule requires gun owners to register their pistol braces with the ATF, destroy them, or remove the accessories from their weapons. Those that do not comply with the regulation by May 31 will be forced to pay a fee. The consequences for those that choose not to register their firearm with a stabilizing brace and keep it include up to 10 years' imprisonment or $10,000 in fines or both, according to the ATF. 
FEDERAL COURT DEALS BLOW TO ATF PISTOL BRACE RULE AHEAD OF GUN ACCESSORY REGISTRATION DEADLINE
At least three million guns with stabilizing braces are in circulation in the U.S., according to the ATF. Estimates by the Congressional Research Service indicate there are currently between 10 million and 40 million stabilizing braces in circulation. 
Earlier this year, Rep. Andrew Clyde, R-Ga., along with 188 Republican cosponsors, introduced a resolution disapproving of the rule under the U.S. code that dictates congressional oversight of agency rulemaking. The resolution was passed by the House Judiciary Committee, but has yet to be taken up by House Speaker Kevin McCarthy for a full floor vote.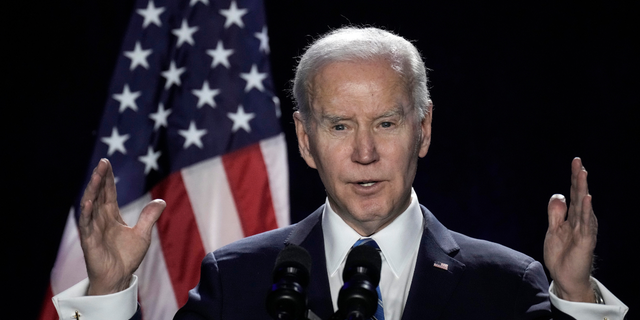 FIREARMS EXPERT TAUNTS PRO-GUN CONTROL ACADEMICS WITH BET ON RISING CRIME
Gun Owners of America (GOA), a gun rights advocacy group that has also sued the government along with Texas Attorney General Ken Paxton, says that action from Republican lawmakers is a political opportunity to force a vote on vulnerable Democrats in gun-friendly states. 
"With 189 House Republicans and 47 senators already signed onto the measure to block this rule, pro-gun politicians have a great opportunity to force vulnerable Democrats to vote on whether Joe Biden can charge their constituents with felonies on June 1st, simply for keeping their lawfully acquired pistols," Aidan Johnston, GOA's Director of Federal Affairs, said in a statement to Fox News Digital. 
GOA is also arguing to lawmakers that, even if President Biden were to veto the resolution, its passage could send a message to the federal judges weighing whether the ATF stepped beyond its authority given by Congress. 
"GOA urges the Speaker to fight the Biden Pistol Ban, to remind the courts that Congress has not authorized ATF's attack on millions of gun owners, and to defend the Second Amendment from all infringement," Johnston added. 
The resolution to block the rule is exempt from the filibuster rule, and as a result would allow Senate Republicans to force a vote and place several vulnerable Democratic lawmakers representing pro-gun states — like Sen. Jon Tester in Montana, Sen. Joe Manchin in West Virginia and Sen. Kyrsten Sinema in Arizona — in a precarious political position.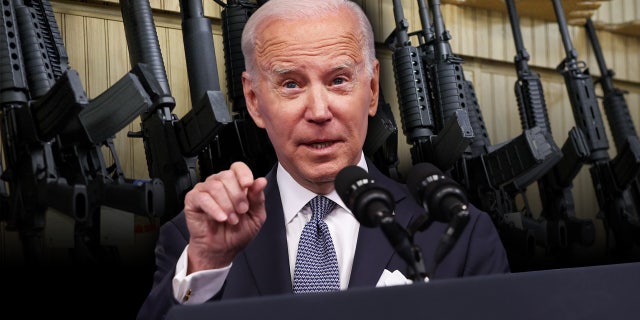 GUN RIGHTS GROUPS VOW TO FIGHT BACK AS ATF PISTOL BRACE RULE TAKES EFFECT
On Wednesday, a Fifth Circuit Court panel issued a temporary injunction that narrowly pauses the rule from going into effect, stemming from a separate lawsuit against the ATF. 
A GOA spokesperson said that while that move from the Fifth Circuit is "encouraging," that "without a more comprehensive injunction from the bench, millions of Americans stand to become felons overnight come June 1st."
Fox News Digital's Chris Pandolfo contributed to this report.