President Biden is giving $1 billion to the United Nations' Green Climate Fund.
The president confirmed the financial commitment in a message from the White House announcing a Thursday meeting of the Major Economies Forum on Energy and Climate (MEF).
"At today's meeting, the President will highlight new steps the United States is taking to meet its ambitious 1.5°C-aligned goal of reducing emissions 50-52 percent in 2030," the White House wrote in a press statement.
MASSIVE OIL PROJECT SPARKED CIVIL WAR WITHIN BIDEN ADMINISTRATION, LAWMAKERS SAY
The statement continued, "The President will also announce significant new steps the United States is taking to support developing countries in taking stronger climate action — including providing $1 billion to the Green Climate Fund and requesting $500 million for the Amazon Fund and related activities — and invite other countries to join the United States and others in fully leveraging the multilateral development banks to better address global challenges, like climate change."
The MEF intends to address several key facets of Biden's environmental plan, including anti-deforestation efforts in the Amazon and a push for zero-emission vehicles by 2030.
AOC, TOP DEMOCRATS ISSUE STINGING REBUKE OF BIDEN OVER FAILED CLIMATE PROMISES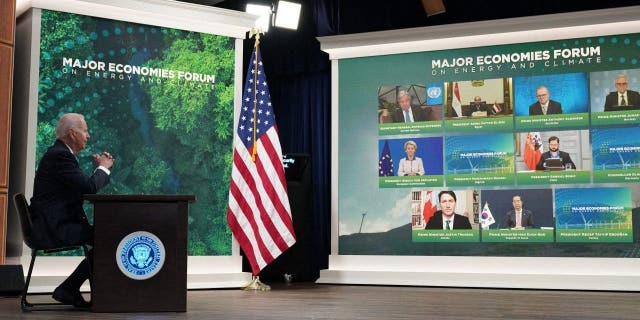 The Biden Administration outlined four key topics of the meeting: "Decarbonizing Energy," "Ending Deforestation of the Amazon and Other Critical Forests," "Tackling Potent Non-CO2 Climate Pollutants" and "Accelerating Carbon Capture and Removal Technologies."
The MEF is an international body of state leaders meant to facilitate open dialogue about environmental issues within the context of economic growth.
"In addition to partnering on new joint efforts, leaders are expected to announce other new steps their countries are taking to fulfill their nationally determined contributions under the Paris Agreement," the White House said.
"The President will encourage those countries whose 2030 Paris targets are not yet aligned with keeping 1.5 °C within reach to strengthen their targets by COP 28 this November in Dubai," the statement added.
The group has met regularly since it was convened in 2009.
Former President Obama hosted the body's first preparatory meeting in Washington, D.C.
Fox News' Brooke Singman contributed to this report.