Sen. Tom Cotton warned that the Chinese spy balloon that flew over the United States was more than just a one-time intelligence gathering device, but a test of how President Biden would respond.
The balloon was spotted by the public over Montana, but the U.S. waited until it was over the Atlantic Ocean to shoot it down. In an interview with "Fox News Sunday," Cotton said he believes that Biden put Americans at risk by waiting for the balloon to cross the country instead of eliminating it immediately.
"What began as a spy balloon has become a trial balloon  testing President Biden's strength and resolve, and unfortunately the president failed that test.  And that's dangerous for the American people," the Senate Intelligence Committee member said. "The president was paralyzed for entire week by a balloon."
Cotton suggested that the U.S. should have shot the balloon down when it first entered U.S. airspace over the Aleutian Islands instead of letting it travel across the whole country.
REP. MIKE ROGERS  OFFERS SUCCINCT GOP ASSESSMENT OF CHINESE SPY FLIGHT
"There's a lot of open questions the administration needs to answer to Congress on behalf of the American people on why they didn't," Cotton said.
Cotton guessed that the delayed response was due in part to Biden's desire to avoid "any action that would be viewed as provocative or confrontational towards the Chinese communists." He also said he believed that the administration "wanted to salvage the Secretary of State's trip" to China Friday night.
CHINA FUMES AFTER US POPS ITS BALLOON, WARNS OF POSSIBLE 'RESPONSES' TO 'CLEAR OVERREACTION'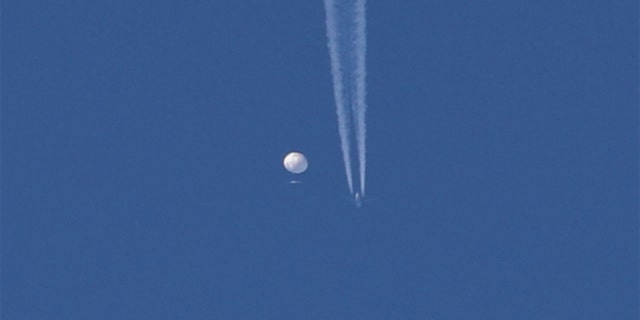 Host Shannon Bream asked Cotton about a recent prediction from four-star Air Force Gen. Mike Minihan that the U.S. will be at war with China in 2025. In response, the senator observed that "China has been waging a cold war against the United States for decades," but "not many of our leaders have acknowledged that." He added that the spy balloon is a "high profile reminder to Americans about what the Chinese  communists have been up to."
Cotton also warned that the spy balloon is far from the only threat from China currently facing Americans, telling Bream that if the audience is worried about the balloon, "let me tell them about the TikTok app that they may have on their phone, and what it means for their security, and their privacy, and that of their children as well."