National Security Council spokesman John Kirby sounded off Tuesday on critics he said are wrongfully claiming that the Biden administration is "bowing down" to China.
At the very end of a briefing with the White House press pool, Kirby was asked to respond to Chinese incursions in the Indo-Pacific, and specifically the notion that either the U.S. or China "are acting poorly and instigating actually escalation." 
"What will this administration do to lower those tensions in the Indo-Pacific?" a reporter posed. 
"We've been talking about it now for two days, trying to keep the lines of communication open. Having a visit to Beijing just this week to see if we can't get more transparency and get more communication open, including through the military to military lanes," Kirby responded. "What are we doing? I mean, Secretary Austin, again attempted to have a discussion with his counterpart in the PLA, and they rebuffed that." 
BIDEN ADMIN SLAMMED AS GRANTING 'MAJOR COUP' TO CHINA AFTER TOP OFFICIALS VISIT ON TIANANMEN MASSACRE DATE
"It's interesting you're criticizing — or not you — but people are criticizing us for not doing enough and then I hear from others that we're doing too much or we're bowing down to China, that we're trying too hard," Kirby continued. "I mean, I think anybody that's taken a look at this bilateral relationship, the most consequential bilateral relationship in the world right now, can see that the tensions are high. And we all want to see the tensions come down. And the president believes that the best way to do that is through diplomacy. And it boggles my mind that anybody anywhere would think A) that we're not engaging in diplomacy and B) the diplomacy and the use of it and the attempt at dialog in diplomacy is somehow weakness. It just absolutely boggles my mind. We're working on this very, very hard. And the president's confident that we'll be able to get back to the spirit of Bali between the PRC and the United States." 
The State Department said Monday that Daniel Kritenbrink, the assistant secretary of state for East Asian and Pacific affairs, and Sarah Beran, the National Security Council's senior director for China and Taiwan affairs, had arrived in Beijing to discuss "key issues in the bilateral relationship." 
"The two sides had candid and productive discussions as part of ongoing efforts to maintain open lines of communication and build on recent high-level diplomacy between the two countries," the State Department said of the visit. "The two sides exchanged views on the bilateral relationship, cross-Strait issues, channels of communication, and other matters. U.S. officials made clear that the United States would compete vigorously and stand up for U.S. interests and values." 
But Rep. Darrell Issa, R-Calif., criticized the Biden administration's timing, noting the visit came on anniversary of the massacre in Tienanmen Square. 
US MILITARY RELEASES VIDEO OF CHINESE WARSHIP CUTTING ACROSS AMERICAN DESTROYER IN TAIWAN STRAIT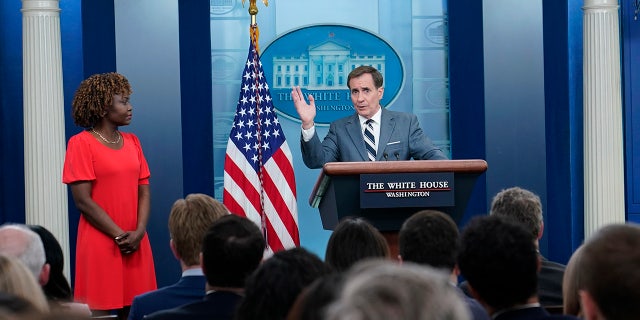 "This is no ordinary foreign policy stumble," Issa, who serves on the House Foreign Affairs Committee, told Fox News Digital, arguing the visit weakens the U.S. position on the world stage. "It's a concession demanded by the Chinese and granted by a White House and State Department willing to bend. It's a major coup for Xi, and America's position in the world just got weaker — where it matters most." 
Tensions between Washington and Beijing soared over the shooting down of a Chinese spy balloon over the U.S. in early February.
U.S. Secretary of State Antony Blinken at the time postponed a planned trip to China, and Beijing has since largely rebuffed attempts at official exchanges. 
NBC News reported Tuesday that two U.S. officials revealed Blinken has rescheduled that visit to China to happen in the next few weeks. 
Two top U.S. and Chinese defense officials briefly interacted at a forum in Singapore over the weekend. China's Foreign Ministry said Kritenbrink and Vice Foreign Minister Ma Zhaoxu "had candid, constructive and fruitful communication on promoting the improvement of China-U.S. relations and properly managing differences."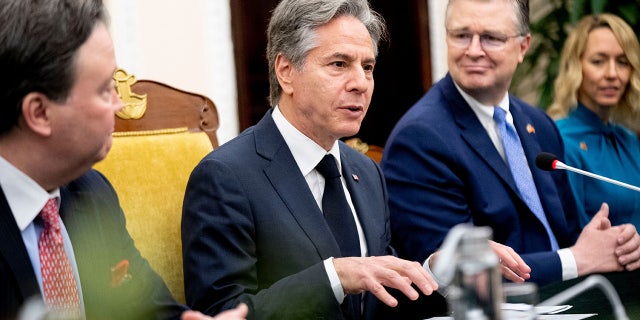 Beijing said it had stated its "solemn position on Taiwan" — a self-ruled island China claims as its territory to be annexed by force if necessary — and other issues and that the two sides had agreed to maintain communication.
The U.S. Navy on Sunday sounded the alarm about an "unsafe interaction" in the Taiwan Strait, after a Chinese warship came within 150 yards of a U.S. destroyer. And last month, a Chinese fighter jet flew dangerously close to a U.S. reconnaissance aircraft over the South China Sea, where Beijing shares overlapping territorial claims with other nations.
CIA Director William Burns last month reportedly took a secret trip to Beijing in another sign the two sides are interested in restoring communication through various channels.
The Associated Press and Fox News' Jessica Chasmer contributed to this report.